What to Do after a Slip, Trip, and Fall Accident
September 07, 2020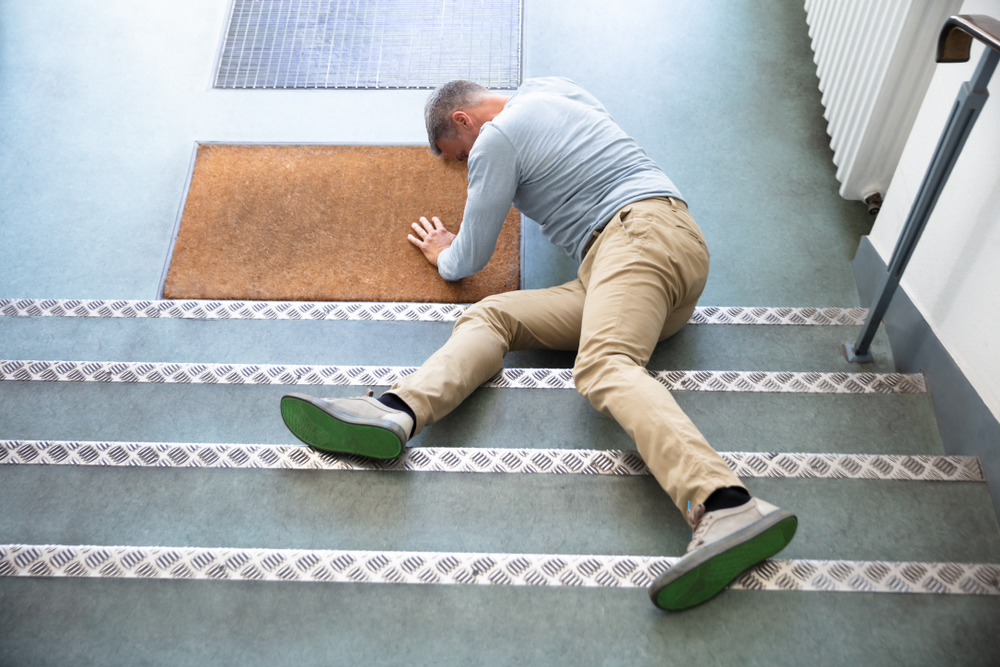 Slip, trip, and fall accidents are some of the most common accidents suffered by New Jersey residents. When these accidents occur on someone else's property, such as on a sidewalk, in a parking lot, or in a store or restaurant, it is likely that someone else's negligence led to the accident. When that is the case, the injured accident victim may be entitled to pursue financial compensation from the negligent party or parties. Property owners and business owners owe a legal duty to ensure that their premises can be safely traversed by all lawful invitees to the property.
If you or a loved one suffer a slip, trip and fall accident due to a property or business owner's negligence, you need to know what steps to take after your fall.
Steps To Take Following Your Accident
Here are a few steps you should take after you've been in a slip and fall accident:
Report the accident – Be sure to report your slip, trip, and fall to the property owner, or if the accident occurs in a place of business, to the business or store owner or manager. If your accident takes place at a business, the employees will likely write up an accident or incident report for their insurer or risk management company; be sure to request a copy of that report
Document the scene – If possible, try to take photos or video of the accident scene, including whatever you believe may have caused your fall (i.e., a puddle of liquid, a pothole, etc.), any obstructions of that hazard, any warning signs or safety equipment nearby, the lighting conditions, and (if applicable) the weather conditions outside. Also be sure to document the clothes you were wearing at the time of your fall (especially your footwear) and any visible injuries you suffered.
Get checked out by a doctor – Even if you don't feel like you were hurt in your fall, it is important to get examined after your accident; symptoms of injuries might take days or even weeks to show, but you will want to promptly document any injuries you suffered in your fall.
Avoid giving adverse statements about your accident – When reporting your accident, it is important to remain calm; just stick to the basic facts about your fall, and try not to assign blame or talk about lawsuits; the other party may try to later use that to cast doubt on your credibility. Also avoid talking about your fall on social media or posting photos or videos of yourself if you are claiming to have suffered serious injury.
Talk to a personal injury attorney – If you are thinking about pursuing legal action, consult with an experienced attorney who can advise you as to your legal rights and options and begin negotiating with the property or business owner for a settlement of your claim.
How an Attorney Can Help If You've Been Injured in a Slip, Trip, and Fall Accident
After your accident, an attorney can help you pursue compensation for your injuries and damages by:
Investigating your accident and securing evidence (such as surveillance video footage of your fall)
Building an effective legal argument for your case
Filing a claim on your behalf
Negotiating with the insurance companies and at-fault parties to try to reach a settlement of your claim
Preparing your claim to go to court and to trial if necessary
Contact a Voorhees Personal Injury Lawyer to Discuss Your Slip, Trip and Fall Accident Case in New Jersey
Did you or a loved one sustain serious injuries due to a slip, trip and fall accident in New Jersey? Don't let the medical bills pile up while you wait for the negligent party or their insurance company to do the right thing. Right now, you need an aggressive personal injury attorney on your side, fighting to get you the compensation you need, want, and deserve. The skilled attorneys at Garber Law, P.C. represent clients injured because of slip, trip, and fall accidents in Camden, Cherry Hill, Gloucester Township, Winslow, and throughout New Jersey. Call (856) 435-5800 or fill out our online contact form to schedule a consultation about your case. We have an office conveniently located at 1200 Laurel Oak Rd. Voorhees Township, NJ 08043, as well as offices in Philadelphia, PA.
Garber Law, P.C. Has Achieved Numerous
Multi-Million Dollar Results
Get The Compensation You Deserve!
Settlements and verdicts may vary and are based on the many factors of your case, etc.
(The below information may not apply to your settlement and verdict).
Settlement During Trial for a Leg Amputation
Mr. Garber is amazing! He walked me through my lawsuit every step of the way and answered all of my questions. Not only is he a great lawyer, but he was very caring about my feelings and health throughout the whole process. Thank you, Mr. Garber, for everything you've done for me, especially for winning my case!

Kim C.

Working with the firm was my best decision. They were extremely helpful and knowledgeable and definitely worked hard for their clients. I would highly recommend them.

Linda S.

Mr. Garber is simply the best. Very knowledgeable, honest, and helpful throughout the whole process. He has been practicing law for many years and is a true professional in the courtroom. Joel Wayne Garber will fight hard for what you deserve.

Joseph P.