New Jersey Off Road Vehicle Accident Lawyer
Experienced ATV, Jet Ski, Snowmobile, and Dirt Bike Accident Attorney in Camden County, NJ Provides a Free Initial Case Review for Clients in Voorhees as well as Burlington County, Gloucester County, and Throughout New Jersey and Pennsylvania
Dirt bikes, quads, dune buggies, ATVs, jet skis, and snowmobiles all provide a great deal of pleasure to their owners. Many operators are young and have not yet obtained their driver's licenses. Some are older drivers who just want to have a good time. If you have been injured in an accident with one of these vehicles, a skilled New Jersey off-road vehicle accident Lawyer can help.
Because these vehicles are not driven on the main roads, many off-road vehicle operators don't need a permit. Some off-road vehicles, like powered watercraft vehicles, require the operator have a license. Other off-road vehicles may not require that the operator have a license. New Jersey and Pennsylvania each have their own set of requirements.
The attorneys of Garber Law, P.C. understand those requirements. We serve both New Jersey and Pennsylvania. We have been practicing personal injury law since 1986. If you've been involved in an off-road vehicle accident in Camden County, Atlantic County or elsewhere in either state, contact our firm now. We will help you get the recovery you deserve.
Off-Road Requirements
Most off-road vehicles have an age requirement.
Most off-road vehicles must have proof of liability insurance if the driver or owner causes an accident
Most, have restrictions for even crossing public highways
Most, if not all, off-road vehicles, must be registered.
The off-road vehicles must not be operated on the main roads
Some states have safety school and safety certificate requirements, engine capacity restrictions and helmet restrictions.
All off-road vehicles must be operated safely. Just because there isn't a license requirement, doesn't mean the driver and the owner can't be held responsible. If the driver is responsible for an accident, they will have to pay damages. The same holds true for the owner. Since many drivers and owners are underage, the parents may be held accountable too.
Various Types Of Off-Road Vehicles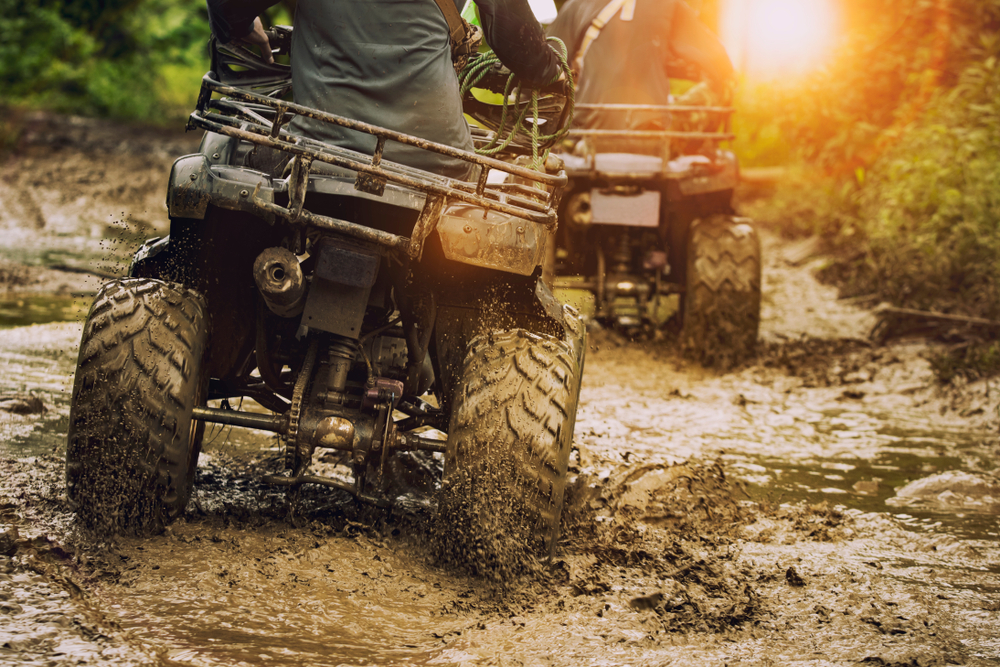 All-terrain vehicles (ATVs) – Three- or four-wheel vehicles, with low-pressure tires, a seat and handlebars designed to handle different types of terrains. A quad is a type of ATV.
Dirt bike – Bikes designed for use on rough terrain.
Dune buggies – Off-road vehicles that usually have oversized tires and are operated on sand.
Jet Skis and other personal watercraft – Watercraft vehicles designed for fast movement in water. They're popular because of their speed and their affordability.
Snowmobiles – Winter vehicles that can be operated on snow and ice. Snowmobiles are a popular winter vehicle, especially in states which experience more traditional winter climates like New Jersey and Pennsylvania.
Contact A New Jersey Off Road Vehicle Accident Lawyer Today For A Free Consultation
When you or a loved one has been injured or killed because someone improperly operated a Jet Ski, dune buggy, quad, snowmobile, ATV or any off-road device, Garber Law, P.C. wants to help. If you were the sole operator of an off-road vehicle that flipped or failed to operate properly, we will help you get the recovery you deserve.
We have weekend and evening appointments available. We also make off-site and hospital visits. Contact us online or call us at 856-219-4628.
Garber Law, P.C. Has Achieved Numerous
Multi-Million Dollar Results
Get The Compensation You Deserve!
Settlements and verdicts may vary and are based on the many factors of your case, etc.
(The below information may not apply to your settlement and verdict).
Settlement During Trial for a Leg Amputation
Mr. Garber is amazing! He walked me through my lawsuit every step of the way and answered all of my questions. Not only is he a great lawyer, but he was very caring about my feelings and health throughout the whole process. Thank you, Mr. Garber, for everything you've done for me, especially for winning my case!

Kim C.

Working with the firm was my best decision. They were extremely helpful and knowledgeable and definitely worked hard for their clients. I would highly recommend them.

Linda S.

Mr. Garber is simply the best. Very knowledgeable, honest, and helpful throughout the whole process. He has been practicing law for many years and is a true professional in the courtroom. Joel Wayne Garber will fight hard for what you deserve.

Joseph P.