New Jersey Workplace Accident Lawyer
Experienced Work Accident Attorney in Camden County, NJ Provides a Free Initial Case Review for Clients in Voorhees as well as Burlington County, Gloucester County, and Throughout New Jersey and Pennsylvania
Whether you work on a construction site, at a warehouse, in a school, or anywhere else, a workplace injury may entitle you to file for workers' comp benefits and receive medical treatment, replacement pay, and possibly a cash award (permanent disability) depending on your injuries. Contact a skilled New Jersey workplace accident lawyer for help filing a claim today.
The law requires your employer to make available workers' comp benefits, but it doesn't mandate that all claims be rubber-stamped. This means that your employer or its insurance carrier may deny your claim. For this and many other reasons, you need a skilled work accident attorney in Camden County, NJ who knows workers' comp and personal injury law and will fight for your rights and benefits.
If you got hurt at work in Camden, Gloucester, or Burlington counties in New Jersey, or elsewhere in New Jersey or the metro Philadelphia area, contact Garber Law, P.C. today for a free consultation and to learn more about your legal rights.
Who Gets Hurt in Most Workplace Accidents?
Some types of jobs are more dangerous than others. While it's certainly possible to get injured in an office, it's also understandable that a forklift driver is at a higher risk for more significant injury than a receptionist. The U.S. Bureau of Labor Statistics reveals that, regardless of occupation, workers' compensation numbers are rising.
Most workplace accidents injure workers in seven types of jobs, according to the U.S. Department of Labor. The occupations include firefighters, police, truck drivers, and other transportation-related workers; those employed in healthcare positions; laborers; construction workers; and movers. In fact, while statistics reveal that 100 in every 10,000 U.S. workers gets hurt in a workplace accident each year, people employed in these seven fields are much more likely to get seriously injured in the workplace.
At Garber Law, P.C., we know that many good people, like you, go to work in hazardous conditions and face the potential for accidents and injuries daily. Workplace accidents, especially those on a construction site or in factories and warehouses, can result in catastrophic injuries. People lose limbs, suffer severe neck, head, and spinal trauma, and lose their lives due to the carelessness of others who don't prioritize safety in the workplace.
The skilled lawyers at Garber Law, P.C. can help. With conveniently located offices in Center City Philadelphia and Voorhees, New Jersey, we will explain your legal rights when you've been hurt at work. We will fully investigate who and what caused your accident, and we will fight tirelessly for maximum financial compensation on your behalf.
Construction Sites Pose The Highest Risk For Workplace Injuries In New Jersey And Pennsylvania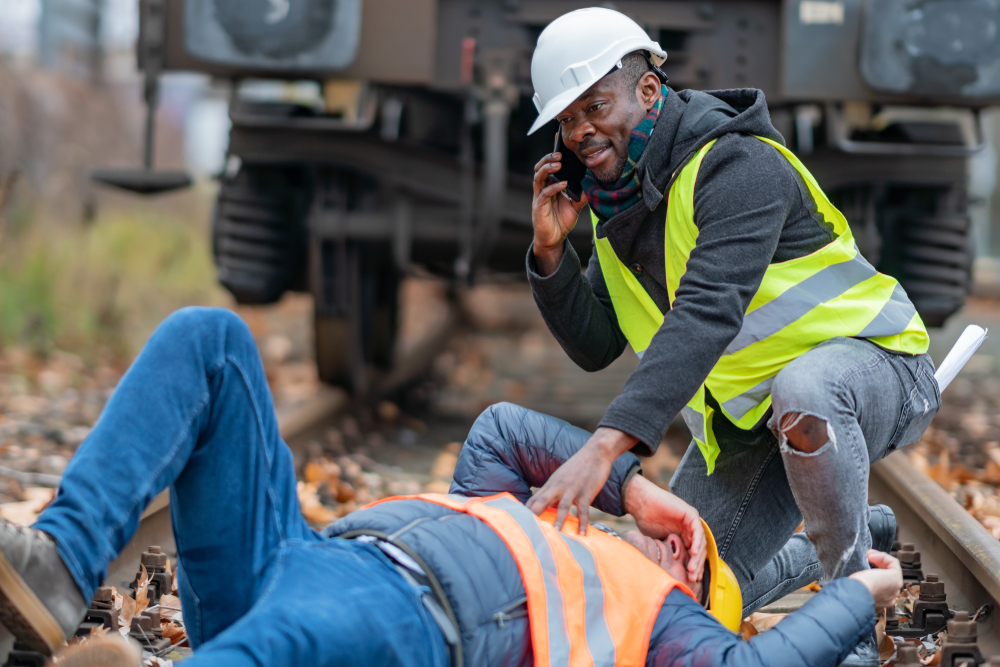 When accidents happen on construction sites, the personal injuries suffered by workers can be devastating. Garber Law, P.C. represents workers on all worksites hurt or injured in any of the following incidents (and others):
Falls from scaffolding, roofs, platforms, or ladders
Construction debris
Collapsing scaffolds or ladders
Burns and other electrical accidents
Toppling machines, including forklifts and other equipment that can tip over
Vehicle incidents, including any injury resulting from a bulldozer, excavator, tractor, front-end loader, concrete mixer, forklift accident, etc.
Handheld equipment mishaps (welding and saw accidents)
Safety issues, including faulty machinery, equipment, and even missing safety apparatus'
Garber Law, P.C. Holds Third Parties Responsible For Workplace Injuries
While you are not permitted by law to sue your employer when you have been hurt in an accident at work, there is a good chance that you can hold someone responsible for your injuries. A third-party claim may exist if your accident was caused by the negligence of someone other than your employer. For example:
Defective product: If you get injured by a product or piece of equipment that doesn't perform the way it's supposed to, we can hold the manufacturer or supplier responsible for that defect.
Equipment collapse: If the company that erected the scaffolding you fell from did a poor job, we will sue them for poor workmanship.
Safety hazards: Often, several subcontractors work on the same job together. If an employee of another company was negligent and you got hurt, that could mean a third-party claim.
In fact, many cases have third-party claims. Just because you cannot sue your employer doesn't mean Joel Garber and his team won't be able to help you hold someone responsible for the mistakes that caused your injuries.
This is a complicated area of the law; that's why it's important you talk with Joel Garber right away. He is an extremely knowledgeable and highly successful personal injury lawyer who has been working to protect people injured in workplace accidents for almost 30 years. He never backs down from insurance companies and he will fight for your rights if your employer or its insurance carrier denied any part of your claim.
How an Experienced New Jersey Workplace Accident Lawyer Can Help You?
Workers' compensation is a no-fault system. You may therefore be wondering why you need the assistance of an expert New Jersey workplace accident lawyer. While the workers' compensation system is designed to be simple enough for workers to pursue benefits without professional legal representation, this is only in theory. The fact is that the process can become quite complex. This is especially since many employers and the insurance companies that represent them aren't often willing to pay workers' compensation benefits to injured workers.
Our team of skilled and experienced work accident attorneys in Camden County, NJ will work to protect your rights. We have extensive experience representing injured workers. We will explain your rights to you and ensure you understand your options. We will help you make informed decisions throughout the claims process.
Our team will handle all aspects of the claims process including investigating your claim, preparing documents, and negotiating with your employer and their insurance provider. We will work to recover the compensation you deserve.
We will explore all options for recovering benefits and work to maximize your compensation. With our attorneys working on your case you will have a better chance of securing a positive outcome.
Contact us today to schedule a free consultation with an experienced New Jersey workplace accident lawyer from our law firm and get started with recovering the compensation that is rightly yours.
Talk To A Skilled New Jersey Workplace Accident Lawyer For A Free Consultation
Joel Garber will make sure you are properly and fairly compensated when you've been injured in a workplace accident. Some worksites are more dangerous than others, but every person who goes to work is at risk of a workplace injury. Mr. Garber will investigate your accident, figure out who was responsible, and fight tirelessly to get you what you deserve. Further, Mr. Garber gets paid when you win or settle your case. You do not have to pay him out of your pocket. He works on contingency with all personal injury cases.
We can't turn back the clock to before the accident happened, but we can make sure you are compensated for your losses. You have nothing to lose and everything to gain by calling 856-219-4628 today for a free consultation about your workplace accident. We will put you and your family first.
Frequently Asked Questions about Workplace Accidents in New Jersey
Should I report my employer for an OSHA violation at the workplace?
Many workers hesitate to report their employers for OSHA violations at their workplaces. This is because they fear that their employer will retaliate. However, it is against the law for an employer to retaliate against a whistle-blower. If you have reported your employer for an OSHA violation and they have retaliated in any way, e.g. by harassing, demoting, or even dismissing you for no reason, you should speak to an experienced New Jersey workplace accident lawyer. You should consult with an attorney even if your employer has not retaliated against your actions. Our team of work accident attorneys in Camden County, NJ will work to defend your rights.
What should I do if my employer is not filing my workers' compensation claim?
The workers' compensation process is designed to help employees receive benefits that provide a financial cushion while recovering from a work-related injury. In order to get the claims process started, your employer must file your claim with their insurance provider. However, not all employers are cooperative. Some employers may hold out on filing the claim, causing delays.

Don't give up. There are various other options available to you. You should contact Garber Law, P.C. to consult with an experienced New Jersey workplace accident lawyer. We will take up your case with the insurance provider directly and get the claims process started. We will handle all aspects of pursuing the financial compensation you rightly deserve so you can focus on recovering from your injury.
Garber Law, P.C. Has Achieved Numerous
Multi-Million Dollar Results
Get The Compensation You Deserve!
Settlements and verdicts may vary and are based on the many factors of your case, etc.
(The below information may not apply to your settlement and verdict).
Settlement During Trial for a Leg Amputation
Mr. Garber is amazing! He walked me through my lawsuit every step of the way and answered all of my questions. Not only is he a great lawyer, but he was very caring about my feelings and health throughout the whole process. Thank you, Mr. Garber, for everything you've done for me, especially for winning my case!

Kim C.

Working with the firm was my best decision. They were extremely helpful and knowledgeable and definitely worked hard for their clients. I would highly recommend them.

Linda S.

Mr. Garber is simply the best. Very knowledgeable, honest, and helpful throughout the whole process. He has been practicing law for many years and is a true professional in the courtroom. Joel Wayne Garber will fight hard for what you deserve.

Joseph P.