New Jersey Truck Accident Lawyer
Experienced Truck Crash Attorney in Camden County, NJ Provides a Free Initial Case Review for Clients in Voorhees as well as Burlington County, Gloucester County, and Throughout New Jersey and Pennsylvania
Garber Law, P.C. has been practicing personal injury law in Camden County, New Jersey, for more than 28 years. Our experience includes trying cases and negotiating fair settlements for automobile accidents. Because of the seriousness of commercial accidents and the complexities of these accidents, you need a skilled New Jersey truck accident lawyer to handle your claim. Commercial truck accidents are often more severe than car accidents because the vehicles are larger and harder to control.
There are additional rules and regulations that control which drivers are allowed to drive commercial trucks, how they're supposed to drive and how the truck is supposed to perform. The truck is normally owned by someone other than the driver and it becomes crucial to identify the proper owner. We help you get compensation for your medical bills, lost wages, property damage and pain and suffering.
Types Of Commercial Vehicles
Trucks
Tractor Trailer
Flatbeds
Semi-Trailers
Tankers
18-Wheelers
Hazardous Materials Carriers
Moving Vans
Taxis
Limousines
Delivery Trucks
Commercial Trucks And Commercial Vehicles Are Dangerous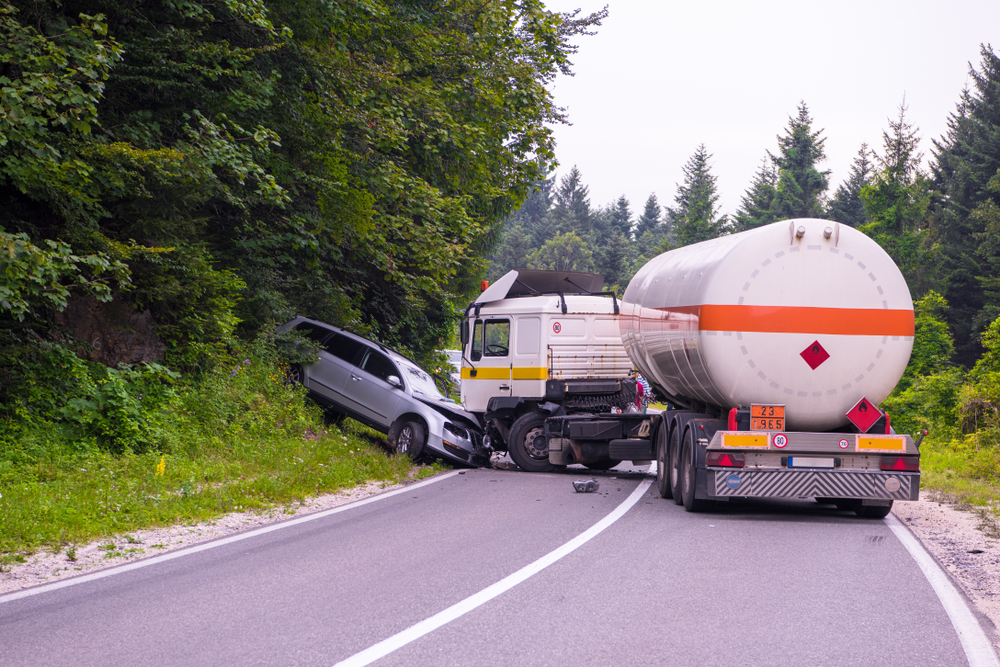 Because of their size and weight, commercial vehicles need more room and more angles to make proper turns, the likelihood of severe injury is much greater. Additionally, commercial vehicles have to deal with difficult blind spots, loads that might spill onto other vehicles and other road conditions. At Garber Law, P.C., our New Jersey auto accident attorneys can help you if you've been injured in a commercial truck-related accident, including those caused by:
Brake failure
Driver fatigue
Motor vehicle regulation violations – common violations are that the truck is oversized, overweight or too wide.
Motor vehicle moving violations such as speeding, tailgating and following too closely.
Improper driver training
Improper truck inspections
Intoxication
Using a cellphone
Trucking companies making the truck drivers meet unreasonable performance schedules
Improper loading and securing of freight
We File Lawsuits Against Negligent Drivers
Individual drivers. Drivers or passengers in any other vehicle on the road and pedestrians can sue if they were hurt to recoup their medical bills, lost wages, property damage and pain and suffering. The personal injury lawyers at 856-219-4628 will work to get you the results you deserve.
Commercial vehicle drivers. In many cases, the driver of the commercial vehicle is the one who is hurt. The driver's remedy is to bring a worker's compensation claim against the employer or the employer's insurance carrier. If a third party (other than the employer) can be shown to be at fault, then the driver can sue the third party.
Who Are The Defendants In A New Jersey Commercial Driving Accident?
One of our key goals is to determine who's responsible. Many people or companies can be responsible. In addition to the driver, the owner(s) of the vehicle, the vehicle manufacturer and retailer, vehicle part suppliers, shippers and others may be responsible.
How We Can Help In New Jersey And Pennsylvania Commercial Driver Accident Cases
We will investigate the cause(s) of the accidents and work with experts such as engineers and accidents reconstructionists to determine the cause of the accident; with physicians to prove the extent of your injuries; with economic experts to construct your monetary losses and other experts that may be needed.
We will negotiate with your insurance carriers to get you a fair settlement and try your case before a judge or jury if the insurance company will not give you a fair settlement. We know the federal, New Jersey and Pennsylvania laws that apply and the federal and local agencies that regulate commercial drivers. We know how the trucking industry works.
Common Injuries in New Jersey Truck Accidents
Truck accidents can result in a wide range of injuries. Many of these injuries are serious and life-altering. Some of the most common injuries resulting from truck accidents include:
Head injuries including traumatic brain injuries, concussions, skull fractures
Spinal cord injuries resulting in temporary or permanent paralysis
Neck injuries including herniated discs and whiplash
Back injuries including broken vertebrae, herniated discs, and nerve impingement
Internal organ damage includes internal bleeding and organ rupture.
Contact A New Jersey Truck Accident Lawyer Today
When you or a loved one has been injured or killed because of a commercial truck accident or any accident, you need to contact the experienced personal injury lawyers at Garber Law, P.C.. Make an appointment for a free initial consultation and get the representation you deserve. We will help you get the recovery you deserve.
We have evening and weekend appointments available and will also make off-site and hospital visits. Contact us online or call us at 856-219-4628. We try cases in New Jersey, including Camden County, Mercer County and Burlington County. We also try cases in Pennsylvania, including Bucks County, Montgomery County, Delaware County and Chester County.
Frequently Asked Questions about Truck Accidents in New Jersey
Should I hire an experienced New Jersey truck accident lawyer?
If you've been injured in an accident involving a truck, it is in your best interests to hire an experienced New Jersey truck accident lawyer. The laws that govern truck accidents are vastly different from those that govern car accidents. There are also various parties involved in truck accident claims and the damage resulting from these accidents is often significant. Claims for accidents involving trucks can therefore be very complex. It is best to have an experienced attorney representing you right from the start.

The team at Garber Law, P.C. understands that the stakes are high in many truck accident cases. We offer truck accident victims the opportunity to work with experienced and skilled commercial truck accident attorneys in Camden County, NJ. You can rely on our skills, knowledge, and experience to help you get a positive outcome. Contact us for a free consultation with an attorney from our law firm.
How long will it take to resolve my truck accident case in New Jersey?
It is impossible to say exactly how long your truck accident case will take. The length of your case will depend on the circumstances of your case including the severity of your injuries, the number of parties being held liable for the accident, and whether the liable parties have accepted responsibility for the accident and are willing to pay compensation. Many truck accident cases are settled outside court. However, some cases go to trial. Cases that go to trial can take even longer to resolve.

At Garber Law, P.C., we understand how emotionally draining and trying a truck accident case can be for the victims of the accident. Our team will work to resolve your case as quickly as possible and ensure you get the funds you need quickly. However, we will not settle for anything less than what we believe is just compensation for your damages. Contact us to schedule a free consultation with an attorney from our law firm.
Garber Law, P.C. Has Achieved Numerous
Multi-Million Dollar Results
Get The Compensation You Deserve!
Settlements and verdicts may vary and are based on the many factors of your case, etc.
(The below information may not apply to your settlement and verdict).
Settlement During Trial for a Leg Amputation
Mr. Garber is amazing! He walked me through my lawsuit every step of the way and answered all of my questions. Not only is he a great lawyer, but he was very caring about my feelings and health throughout the whole process. Thank you, Mr. Garber, for everything you've done for me, especially for winning my case!

Kim C.

Working with the firm was my best decision. They were extremely helpful and knowledgeable and definitely worked hard for their clients. I would highly recommend them.

Linda S.

Mr. Garber is simply the best. Very knowledgeable, honest, and helpful throughout the whole process. He has been practicing law for many years and is a true professional in the courtroom. Joel Wayne Garber will fight hard for what you deserve.

Joseph P.