New Jersey Construction Accident Lawyer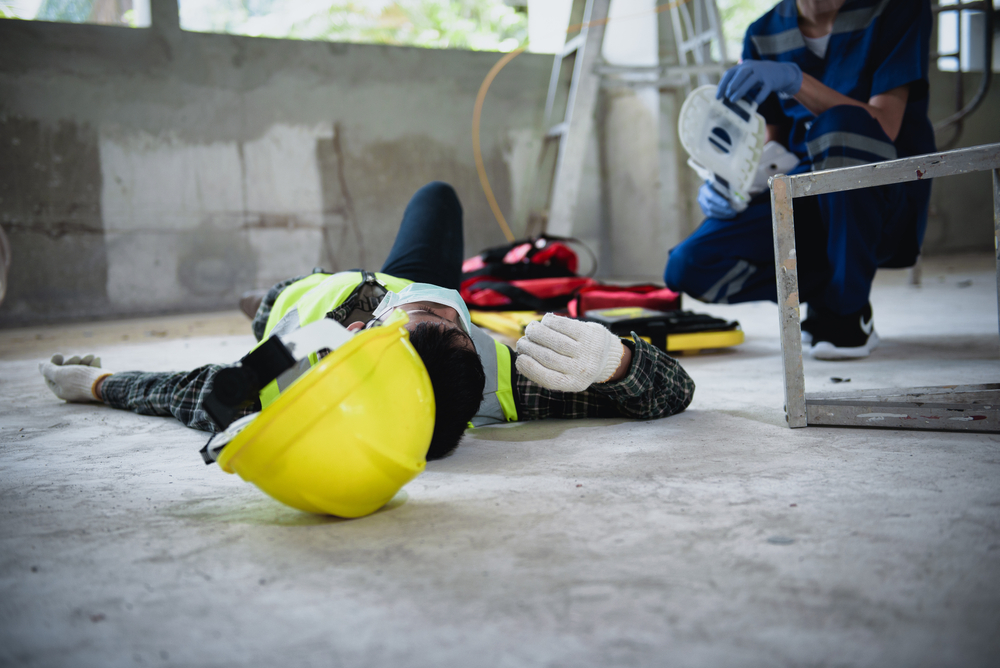 Experienced Construction Worker Injury Attorney in Camden County, NJ Provides a Free Initial Case Review for Clients in Voorhees as well as Burlington County, Gloucester County, and Throughout New Jersey and Pennsylvania
Construction sites are notably dangerous places with equipment and working conditions that can cause severe injuries if they are not maintained and taken care of correctly. At Garber Law, P.C., a New Jersey construction accident lawyer knows that construction companies have a responsibility to reasonably maintain their construction sites and to keep them safe for their workers and any visitors or people passing by the work site.
We also know that clients who are injured in construction site accidents can have a difficult time paying for medical bills and dealing with lost wages when they are trying to recover from their injuries.
If you or someone you know has been injured in a construction accident, you need to contact an experienced premises liability lawyer to handle your case. Our firm has practiced personal injury law in New Jersey and Pennsylvania since 1986. We fully investigate every case we handle to determine the extent and cause of your injuries and we work hard to get the resolution and damages you deserve.
Types Of New Jersey Construction Accidents
There are many types of construction accidents. Many of them happen across a wide variety of industries. Some of the more common types of accidents include:
Ladder accidents
Crane accidents
Welding accidents
Compressor accidents
Nail gun injuries
Fires and explosion accidents
Toxic spills
Accidents caused by poor supervision
Cutting accidents
Collapsed buildings and trench accidents
And more
Construction Accident Causes
On a construction site, there are numerous problems that can cause serious injury, including:
Inadequate safety inspections of equipment and materials
Defective or poor equipment
OSHA (Occupational Safety and Health Administration) and local building code violations
Falling materials or tools, or other objects that have been left unsecured on the ground
Chemical leaks and explosions
Electrical accidents
Errors in judgment
Many construction accidents are caused by a failure to properly inspect.
Remedies If An Employee Is Hurt
Most employees who are injured at work in a construction accident are covered by their state's workers' compensation laws. In workers' compensation cases:
The employee is covered without needing to show fault.
The employee should be covered for his/her medical bills
The employee normally receives a percentage of lost wages
The employee does not receive money for pain and suffering
The employee may have a case against a subcontractor or equipment manufacturer
Remedies If A Non-Employee Is Hurt
Who might be responsible? Sometimes a nonemployer is responsible for the worker's or nonworker's injuries. At Garber Law, P.C., we hold these parties accountable through a third-party injury claim. Some examples of non-employers who may be responsible include:
A manufacturer of faulty construction equipment or machinery
The owner of the building or place where the accident happened
Independent contractors—the prime contractor, construction constructor, and subcontractor
The employer may be liable to nonemployees.
Common Safety Violations in the New Jersey Construction Industry
Construction zones are high-risk workplaces. However, construction contractors and site owners have the responsibility to ensure a reasonable level of safety on the site. Not every contractor adheres to these requirements. This can result in accidents on the construction site. The following are some of the most common safety violations in the construction industry in New Jersey.
Ladder safety violations
Lack of eye protection
Lack of face protection
Unsafe scaffolding
Faulty fall protection systems
Inadequate fall protection training
Contact A New Jersey Construction Accident Lawyer Today
If you've been hurt because of a construction accident or because of any accident, contact a personal injury lawyer at Garber Law, P.C. today to make an appointment for a free initial consultation. We have evening and weekend appointments available and will also make off-site and hospital visits.
Contact us online or call us today at 856-219-4628. From our office in Voorhees, we handle cases across New Jersey, including Camden County, Gloucester County, and Burlington County. We also handle cases in Pennsylvania from our office in Philadelphia, including Bucks County, Montgomery County, Delaware County, and Chester County.
Frequently Asked Questions about Construction Accidents in New Jersey
How much will I be paid as workers' compensation for a construction accident in New Jersey? 
Construction workers that are employed by contractors can apply for compensation against the contractor's workers' compensation insurance policy. Workers' compensation is designed to cover all medical expenses that are related to the construction accident. However, it only covers treatments that your doctor has authorized. The benefits will continue to be paid until you make a full recovery. If your doctor determines that you will not make further improvement even with treatment, the benefits will stop. 

If you miss working for more than 7 days as a result of the accident, your workers' compensation benefits will also include a wage-replacement package. This will be backdated to the day that the accident occurred. Only 70 percent of your average weekly earnings will be paid as wage-replacement benefits up to the maximum amount set by the law. 

If your accident has resulted in a permanent partial disability, you will receive disability benefits. The amount will depend on the part of the body affected. If you have suffered a permanent disability, you will be eligible for permanent total disability benefits. These are paid based on your average weekly wages. The benefits are paid for up to 450 weeks. You may receive benefits beyond the 450 weeks. However, this is only possible if your doctor declares that your disability is still permanent. 
Contact Garber Law, P.C. to consult with experienced construction worker injury attorneys in Camden County, NJ, and determine how much you can potentially recover as workers' compensation for your construction accident. 
Do I need an experienced New Jersey construction accident lawyer? 
If you have been injured in a construction site accident, you have the right to seek compensation for your injuries. However, the process of recovering compensation can be complex. You may be eligible to seek compensation through different avenues. You may also be able to hold various parties liable for your damages. It helps to have an experienced New Jersey construction accident lawyer guiding and representing you. 

The team at Garber Law, P.C. is dedicated to providing injured workers with the best legal representation. We will review your case for free and determine all possible options. We will fight to recover maximum compensation for your injuries. Contact us today to schedule a free consultation with our experienced construction worker injury attorneys in Camden County, NJ. You can trust us to work for the best outcome in your case. 
Garber Law, P.C. Has Achieved Numerous
Multi-Million Dollar Results
Get The Compensation You Deserve!
Settlements and verdicts may vary and are based on the many factors of your case, etc.
(The below information may not apply to your settlement and verdict).
Settlement During Trial for a Leg Amputation
Mr. Garber is amazing! He walked me through my lawsuit every step of the way and answered all of my questions. Not only is he a great lawyer, but he was very caring about my feelings and health throughout the whole process. Thank you, Mr. Garber, for everything you've done for me, especially for winning my case!

Kim C.

Working with the firm was my best decision. They were extremely helpful and knowledgeable and definitely worked hard for their clients. I would highly recommend them.

Linda S.

Mr. Garber is simply the best. Very knowledgeable, honest, and helpful throughout the whole process. He has been practicing law for many years and is a true professional in the courtroom. Joel Wayne Garber will fight hard for what you deserve.

Joseph P.