New Jersey Motor Vehicle Accident Lawyer
Experienced Vehicle Crash Attorney in Camden County, NJ Provides a Free Initial Case Review for Clients in Voorhees as well as Burlington County, Gloucester County, and Throughout New Jersey and Pennsylvania
Garber Law, P.C. serves both New Jersey and Pennsylvania. We have been practicing personal injury law since 1986. An experienced New Jersey motor vehicle accident lawyer at our firm can try cases and negotiate fair settlements for victims of automobile accidents.
If you've had a motor vehicle accident in New Jersey, we can help you recover compensation for your medical bills, lost wages, pain and suffering, property damage, and an award for any permanent injuries or disfigurements. If a loved one has suffered a death, we can bring a wrongful death claim on your behalf.
Types Of Motor Vehicle Cases We Handle
While some auto accidents are clear-cut, many require particular skill and understanding of the nuances of the law. We have considerable experience handling even the most complex personal injury claims that arise from a motor vehicle accident, such as those involving:
What Damages Can You Collect?
We know which New Jersey and Pennsylvania insurance laws apply to each type of vehicle. The insurance laws determine whether you collect from your own insurance carrier or from the insurance carrier of the at-fault party. We will help you understand how no-fault and liability insurance affect your ability to recover damages.
Medical – You are entitled to be in the same position as you were before the accident. Your bills include medical bills to diagnose your condition and treat it. They include bills for medical equipment and medications. There are often large bills for therapy. Future bills also have to be considered.
Property – Car crashes mean your car has to be repaired or replaced. There can also be damage to the contents of the car. You may be entitled to claim car rental expenses.
Lost wages – If another person is at fault, you're entitled to be reimbursed for all your lost wages. You may also be entitled to any lost benefits, such as lost pension benefits.
Pain and suffering – Accidents cause pain – physical pain and emotional pain. The pain can last for a lifetime. Our skilled personal injury lawyers know how to explain your pain so the jury will feel it. We work with doctors and experts to get you the award you deserve.
Disfigurement – If your face or hands or any part of your body is scarred, you have a right to demand compensation.
Loss of consortium – If you're married, your damage claim includes the loss of the comfort and society of your spouse.
Death – If a loved one loses his or her life in a vehicle accident, then his or her personal representative can ask for a unique set of damages. Our law firm will explain who can claim damages in a wrongful death claim and what damages are allowed.
Who Might Be Held Accountable?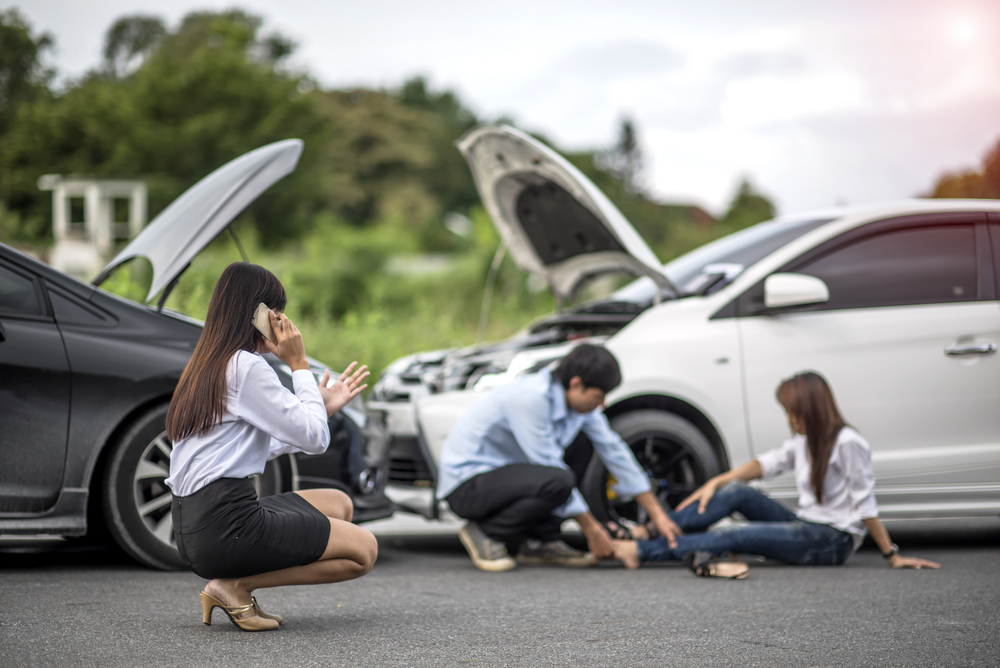 The other driver – The other driver (the one who caused the accident) is the primary target in any motor vehicle lawsuit.
The owner of the other vehicle – Sometimes the owner of the vehicle is not the driver. The owner may be the spouse of the driver. The owner may be an employer of the driver.
A manufacturer or retailer who created a defective car part. Some accidents are caused by faulty equipment such as a steering wheel that doesn't work. We will investigate whether a car part caused the accident.
A seller of alcoholic beverages – Sometimes the responsible driver is intoxicated at the time of the accidents, and the server of the alcohol may be responsible for your damages.
How A Motor Vehicle Accident Lawyer At Garber Law, P.C. Can Help
We will investigate your case – We will examine the vehicles involved in the case and the scene of the accident. We will talk to witnesses. We will work with your doctors to get the necessary medical reports. We work with professional engineers, doctors, and economic experts.
We will explain the process to you at every stage
We will negotiate your claim – Please do not settle your claim or sign a release without consulting our law firm. If you sign a release you will probably lose your rights to recover for any future medical bills, wages or pain and suffering.
We will try your case – the largest results in motor vehicle cases are usually when the case is tried. We have experience trying cases in New Jersey and Pennsylvania courts.
Common Causes for Motor Vehicle Accidents in New Jersey
There are instances when accidents are caused by factors that are beyond the driver's control. However, in most cases, motor vehicle accidents are the result of driver error or negligence by other parties. Some of the behaviors or factors that contribute to motor vehicle accidents include:
Aggressive driving
Distracted driving
Auto defects
Driving under the influence of drugs or alcohol
Poor road conditions
Poor weather conditions
Speeding
Violating traffic laws
Driving while fatigued
Compensation that a New Jersey Motor Vehicle Accident Lawyer from Garber Law, P.C. Can Help You Recover
If you have been injured in a motor vehicle accident, you deserve full compensation for your damages. Garber Law, P.C. gives you access to a team of vehicle crash attorneys in Camden County, NJ. Our attorneys will help you get financial relief for damages including:
Emergency medical care
Other medical bills
Pain and suffering
Lost wages
Physical therapy
Emotional distress
Physical disability
We also represent families of motor vehicle accident victims that have died as a result of their injuries. We will fight to recover full compensation for your damages. Contact us today to schedule a free consultation with an experienced New Jersey motor vehicle accident lawyer.
Contact A New Jersey Motor Vehicle Accident Lawyer Today
When you or a loved one has been injured or killed because of a motor vehicle accident, you need to contact the experienced personal injury lawyers at Garber Law, P.C.. Make an appointment for a free initial consultation and get the quality legal representation you need. We will help you get the recovery you deserve.
From our office in Voorhees, we handle cases throughout New Jersey, including Camden County, Gloucester County, and Burlington County. We also handle cases in Pennsylvania from our office in Philadelphia, including Bucks County, Montgomery County, Delaware County, and Chester County.
We have evening and weekend appointments available and will also make off-site and hospital visits. Contact us online or call us at 856-219-4628.
Frequently Asked Questions about Motor Vehicle Accidents in New Jersey
What should I know before talking to the insurance agent?
It is important to notify the insurance company about the accident as soon as possible. However, you should not sign anything that the insurance provider gives you before you talk to an attorney. Insurance companies want to minimize their losses. While insurance adjusters may sound friendly, they are in fact acting in the best interests of the insurance provider. Therefore, everything you say to the insurance provider can be used against you. 

Contact Garber Law, P.C. to consult with our experienced vehicle crash attorneys in Camden County, NJ. Take advantage of our free consultation to learn more about your rights and options. 
When should I start the process of recovering compensation for my losses?
If you have been involved in a motor vehicle accident, you should begin the process of seeking compensation as soon as possible after the accident. The statute of limitations for most car accident claims in New Jersey is 2 years. If you fail to file your car accident claim within the 2-year period, you may not be able to recover compensation. The statute of limitations begins on the date of the accident.

There are exceptions to the statute of limitations. For example, if you are filing a car accident claim against a government entity, you will only have 90 days in which to do so. However, if you are making a claim against the New Jersey Port Authority, you will have 1 year to file your claim.

If you've been involved in a motor vehicle accident, contact Garber Law, P.C. to consult with an experienced New Jersey motor vehicle accident lawyer for free. Our team will get started on your case right away and ensure you don't miss out on any deadlines.
Garber Law, P.C. Has Achieved Numerous
Multi-Million Dollar Results
Get The Compensation You Deserve!
Settlements and verdicts may vary and are based on the many factors of your case, etc.
(The below information may not apply to your settlement and verdict).
Settlement During Trial for a Leg Amputation
Mr. Garber is amazing! He walked me through my lawsuit every step of the way and answered all of my questions. Not only is he a great lawyer, but he was very caring about my feelings and health throughout the whole process. Thank you, Mr. Garber, for everything you've done for me, especially for winning my case!

Kim C.

Working with the firm was my best decision. They were extremely helpful and knowledgeable and definitely worked hard for their clients. I would highly recommend them.

Linda S.

Mr. Garber is simply the best. Very knowledgeable, honest, and helpful throughout the whole process. He has been practicing law for many years and is a true professional in the courtroom. Joel Wayne Garber will fight hard for what you deserve.

Joseph P.