New Jersey Workers' Compensation Lawyer
Experienced Workmans Comp. Attorney in Camden County, NJ Provides a Free Initial Case Review for Clients in Voorhees as well as Burlington County, Gloucester County, and Throughout New Jersey and Pennsylvania
As the old saying goes, "I owe! I owe! It's off to work I go!" Almost everyone needs to earn a living. With bills to pay and mouths to feed, you get up and go to work – ready to put in an honest day's work for an honest day's pay. Unfortunately, all too often, people get injured in job-related accidents and they find themselves in horrible pain, unable to collect a paycheck, and wondering how they will care for their families. That's where the workers' compensation benefits system comes in. If you or someone you know has been hurt at work, you should notify your employer and file for worker's comp benefits immediately. A New Jersey workers' compensation lawyer can help you through the process.
The dedicated and knowledgeable workers' comp attorneys at Garber Law, P.C. fight for the rights of hard-working people, like you, who have been injured in workplace accidents throughout Camden County and the surrounding areas of New Jersey. We also handle cases in Pennsylvania. Contact our office today for a free consultation about your worksite accident.
Am I Eligible For Workers' Compensation Benefits?
Your employer in New Jersey or Pennsylvania is required, by law, to provide all employees with workers' compensation benefits. Therefore, if you are hurt on the job, regardless of whose fault it is, you will have your medical treatment provided and you will receive lost wages/replacement pay for the time you are out recovering from your accident. Additionally, depending on the severity of your injuries, you may be entitled to a cash payout.
In return for providing you with workers' comp insurance coverage, workers hurt on the job are not allowed to sue their employers for injuries received in a workplace accident. You may, however, be able to sue a third party – the manufacturer of faulty equipment or the subcontractor whose negligence caused your accident, as examples. That's why it's critical to hire a smart, experienced workers' comp lawyer who will review the circumstances of your accident and determine who may be held liable for your injuries.
Joel Garber at Garber Law, P.C. is passionate about protecting the rights of injured workers. It's important that you contact Mr. Garber as soon as possible after your accident. Of course, first you should seek medical assistance. Then, contact our office for a review of your case and a full explanation of your legal rights following a workplace accident.
What Does Workers' Compensation Insurance Cover?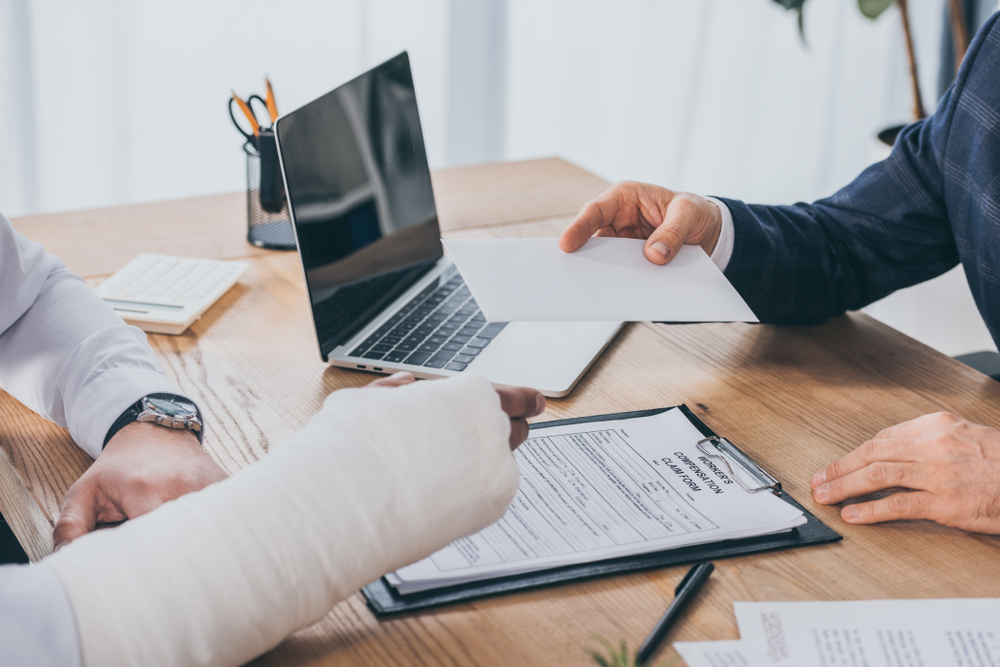 Your employer's workers' comp insurance policy includes medical benefits, temporary disability benefits (also called replacement pay or lost wages), and the potential for a cash award (permanent disability), depending on the extent of your long-term injuries.
Medical benefits: The insurance company will send you to a doctor who will determine what type of treatment you need to get you back on your feet. Unlike other accident situations where you are allowed to choose your doctors, treatment plan, etc., the workers' comp insurance company makes those decisions on your behalf. Of course, you have the right to deny any treatment, but the workers' comp doctor determines what course of action is required to get you back on the job as soon as possible. When the insurance company's chosen doctor says you have reached the "highest level of medical improvement" they believe possible, they may send you back to work.
Replacement pay: The temporary disability part of your workers' comp benefits will provide you with a portion of your weekly pay, based on a calculation, when you are out of work recovering from an injury. As long as you are getting medical treatment, workers' comp will pay for 70 percent of the average amount you earned in the prior 26 weeks. Your checks won't start coming until you've been out of work for eight days. However, if you need it, workers' comp will provide you with lost wages for up to 400 weeks. The maximum amount of money you can receive, regardless of your average take-home pay, changes each year. In 2015, the cap is set at $855 a week.
Permanent disability benefits: If you are unable to use any part of your body fully, following the day you are "released" by your workers' comp doctor, you may be eligible for a cash award. For example, if your accident left you without the use of an arm or your hearing is significantly reduced, etc., you can sue the workers' comp insurance carrier for a financial award.
Workers' compensation law is complicated. When it comes to getting the medical treatment you want and need, you may have to fight for your rights. If your employer or insurance carrier denies any portion of your benefits, you may need skilled legal representation to get what you deserve. And, if you find yourself with reduced use of a body part, an experienced workers' comp lawyer like Joel Garber will work tirelessly to make sure you get the full permanent disability benefits you are entitled to receive. Read about Worker's Compensation FAQ.
Am I Entitled To Death Benefits Under Workers' Comp?
If your loved one suffered a wrongful death in a workplace accident, we are truly sorry for your loss. We understand that in addition to grieving, you are now facing the burden of providing for your family in his or her absence. The workers' compensation system does provide death benefits for surviving family members when someone is killed in a workplace accident.
The person who pays for the funeral expenses is entitled to receive up to $3,500 if the loved one's death was caused by an on-the-job accident. Also, there is a weekly death benefit of 70 percent of the weekly take-home pay of the person who was killed in the worksite accident. This figure changes each year, which is why you need to contact an experienced attorney who stays on top of changing workers' compensation laws.
The team of knowledgeable personal injury lawyers at Garber Law, P.C. will make sure you get the financial damages you deserve when you have lost a loved one in a workplace wrongful death accident. Allow Mr. Garber to focus on your legal business while you take care of yourself and your family at this terrible time.
Steps to Take After a Work Accident
The steps you take immediately after a work accident are important for improving your chances of securing workers' compensation benefits. The following are some steps to take in order to secure your right to workers' comp benefits.
Seek medical attention immediately
Your health is the most important thing. If you have suffered a serious injury, you should contact emergency services for emergency medical treatment. However, if you're able to go to the hospital yourself, you can do so. However, never put off seeking medical attention for your injuries. You may develop complications if you do so. It will also be difficult to prove that the injuries were a result of your workplace accident.
Record the accident
Take photos of your injuries as well as the scene of the accident. These will be important in showing that the accident was work-related. You should also take note of the contact information of any of your colleagues or other witnesses.
Notify your employer
Ensure that your employer is made aware of the accident as soon as possible. It is best to do this in writing. If you're able to, report the accident to your supervisor. They will prepare an incident report that will be used as evidence to support your claim.
Schedule a free case review with our experienced workman's comp attorneys in Camden County, NJ. Our attorneys will get started with working on your case as soon as possible.
Contact A Skilled New Jersey Workers' Compensation Lawyer Today
When you or someone you love has been injured in a workplace accident, there is no time to lose. The statute of limitations clock starts ticking away on the day of your accident. You only have a small window in which to make sure your legal rights are preserved. That's why you need to contact a New Jersey workers' compensation lawyer today. Joel Garber doesn't back down from insurance companies and he will fight for your legal rights every step of the way.
From our office in Voorhees, we take cases across New Jersey, including Camden County, Gloucester County, and Burlington County. We also take cases in Pennsylvania from our office in Philadelphia, including Bucks County, Montgomery County, Delaware County, and Chester County.
Frequently Asked Questions about Workers' Compensation in New Jersey
Will I lose my job for filing a workers' compensation claim?
Many times injured employees are hesitant to seek workers' compensation. This is because they are afraid that their employers will retaliate by dismissing them or demoting them. However, this is unlawful. If your employer threatens to retaliate or if you are afraid they will retaliate, you should contact Garber Law, P.C.. We offer you the services of a team of skilled and experienced workman's comp attorneys in Camden County, NJ. Our team will work to ensure your rights are protected. We will fight to secure maximum compensation and to protect you from unfair and unlawful treatment by your employer.
I have suffered an injury that occurred at work. However, my injury was not the result of a specific incident. It occurred over time. Can I still file for workers' compensation benefits?
Yes. You can still file for workers' compensation benefits even if your condition is a chronic one that occurred over time. You simply need to demonstrate that the injury is work-related. For example, if you work in a job that involves a lot of heavy lifting, you may suffer a back injury due to wear and tear as well as the continued strain on your spine and the back muscles. 

Proving that a chronic condition is work-related can be difficult. You should contact Garber Law, P.C. for a free consultation with an experienced New Jersey workers' compensation lawyer. We will review the circumstances of your case in collaboration with health experts to establish a connection between the condition and your activities at work. 
Garber Law, P.C. Has Achieved Numerous
Multi-Million Dollar Results
Get The Compensation You Deserve!
Settlements and verdicts may vary and are based on the many factors of your case, etc.
(The below information may not apply to your settlement and verdict).
Settlement During Trial for a Leg Amputation
Mr. Garber is amazing! He walked me through my lawsuit every step of the way and answered all of my questions. Not only is he a great lawyer, but he was very caring about my feelings and health throughout the whole process. Thank you, Mr. Garber, for everything you've done for me, especially for winning my case!

Kim C.

Working with the firm was my best decision. They were extremely helpful and knowledgeable and definitely worked hard for their clients. I would highly recommend them.

Linda S.

Mr. Garber is simply the best. Very knowledgeable, honest, and helpful throughout the whole process. He has been practicing law for many years and is a true professional in the courtroom. Joel Wayne Garber will fight hard for what you deserve.

Joseph P.