Proving Liability After a Slip and Fall Accident in a Store
January 16, 2020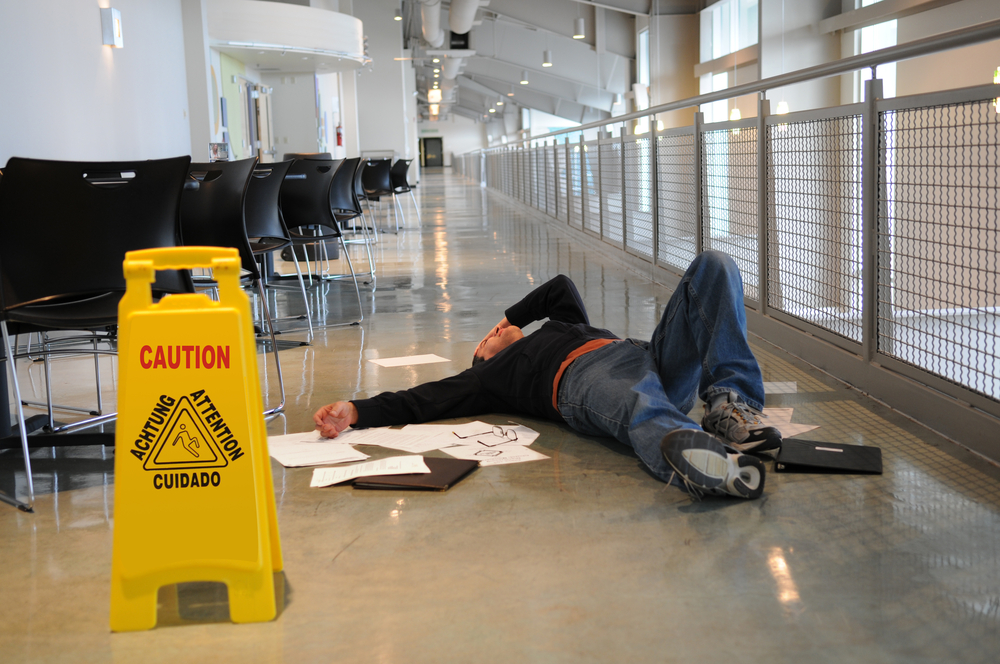 Premises Liability Lawsuits in NJ
You never expect to become injured while visiting a nearby store. But, one minute you're strolling the aisles, adding items to your shopping cart, and then the next, you step on a slippery spot and lose your balance, falling hard onto the ground and suffering life-changing injuries. Now what?
Types of Slip and Fall Accidents
Unfortunately, there are many things that can cause you to slip and fall in a store, which include:
Slippery floors following mopping
Ice from the outdoors
Uneven floors
Liquid spill that is not cleaned up in a timely manner
Electrical wires in the walkway
Loose floorboard
Whatever it is that caused you to slip and fall, it is possible that the store is at fault. This would also mean that they are liable for your damages.
Proving Liability in a Store Slip and Fall Case
It is the burden of the victim to prove liability when they are injured in a slip and fall case. Building your slip and fall case will require that you demonstrate the following elements:
Duty of care: The store owner must have owed a legal duty of care to your wellbeing. When a store owner opens up their doors to welcome customers into their shop, they are accepting that they will do everything realistically possible to protect them from injury. If they are aware of an unsafe condition, then they must make every realistic effort to protect their customers.
Breach of duty: It is also necessary to demonstrate the breach of duty. When dealing with slip and fall cases, this is usually from negligence or intentional harm, which negligence being the most common in slip and fall cases. This could be failing to place a slippery floor sign after mopping or not removing ice from the walkways in a timely manner.
Causation: The negligent action taken by the store owner must be the cause of your injury. Whether the store owner failed to clean up a spill in a timely manner or they were aware of uneven floor boards and did nothing to repair them, they may be the cause of the accident.
Damages: In order to deem the store owner as liable, there must be actual damages that can be compensated. This might include things like medical bills, transportation, time off work, and property damage.
When you work with an experienced personal injury team, your lawyer will begin building your case with each of these important elements. It is necessary to collect documents like medical records, video evidence, witness statements, and expert witness reports.
Important Steps to Take Following a Slip and Fall Case
If you ever find yourself injured after a slip and fall, keep these tips in mind as you navigate the rest of your case:
Seek medical attention: It is crucial to seek medical attention as soon as possible. Not only is this crucial in protecting your own health, but it may be necessary to connect the cause to the injury.
Gather evidence: If possible, it can be useful to begin gathering evidence. This might include your medical records or photos of the dangerous environment.
After you have received the medical care you need and begun to collect any important evidence, it can be useful to discuss your case with a personal injury lawyer. A lawyer can ensure your rights are protected while allowing you to focus on your recovery.
Contact a Cherry Hill Personal Injury Lawyer to Discuss Your Slip and Fall Case in New Jersey
Did you or a loved one sustain serious injuries due to a slip and fall in New Jersey? Don't let the medical bills pile up while you wait for the negligent party or their insurance company to do the right thing. Right now, you need an aggressive personal injury attorney on your side, fighting to get you the compensation you need, want, and deserve. The skilled attorneys at Garber Law, P.C. represent clients injured because of personal injury in Cherry Hill, Winslow, Voorhees, Haddon Township, and throughout New Jersey. Call (856) 435-5800 or fill out our online contact form to schedule a consultation about your case. We have an office conveniently located at The Greens at Laurel Oak Road, Suite 104, Voorhees, NJ, 08043, as well as an office in Philadelphia, Pennsylvania.
Garber Law, P.C. Has Achieved Numerous
Multi-Million Dollar Results
Get The Compensation You Deserve!
Settlements and verdicts may vary and are based on the many factors of your case, etc.
(The below information may not apply to your settlement and verdict).
Settlement During Trial for a Leg Amputation
Mr. Garber is amazing! He walked me through my lawsuit every step of the way and answered all of my questions. Not only is he a great lawyer, but he was very caring about my feelings and health throughout the whole process. Thank you, Mr. Garber, for everything you've done for me, especially for winning my case!

Kim C.

Working with the firm was my best decision. They were extremely helpful and knowledgeable and definitely worked hard for their clients. I would highly recommend them.

Linda S.

Mr. Garber is simply the best. Very knowledgeable, honest, and helpful throughout the whole process. He has been practicing law for many years and is a true professional in the courtroom. Joel Wayne Garber will fight hard for what you deserve.

Joseph P.