NJ Drug Charges and School Zones
January 10, 2021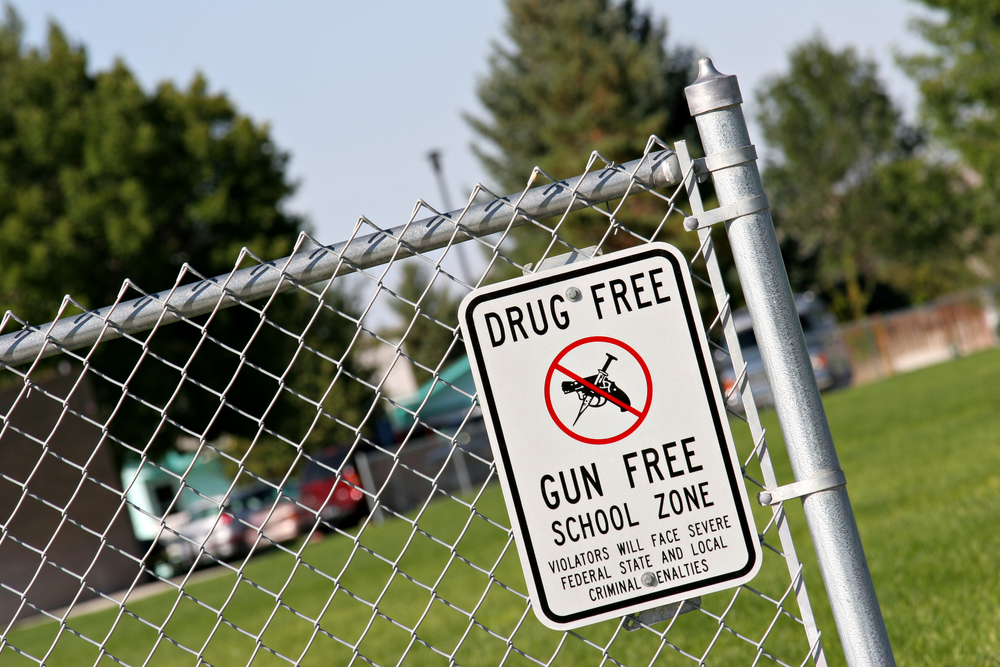 Possessing, distributing, or selling drugs in a school zone is a serious charge that involves hefty fines and jail time. If you are arrested for possessing drugs the charges may become more serious if you are found within 1,000 feet of a school zone. As outlined in N.J.S.A. 2C:35-7, intent to sell drugs in a school zone is a separate and more serious offense. Oftentimes there are signs on school property that say "drug free zone," designed to discourage drug dealers to sell to students.
School Zone Law
The NJ school zone law defines a school zone as "any school property used for school purposes which is owned by any elementary or secondary school or school board." This also includes a school bus. Additionally a school zone can mean 1,000 feet around the school property or school bus. Any person who is caught violating this law will be found guilty of the third degree and will be sentenced to a term of imprisonment.
Components of A Conviction
To get a conviction under N.J.S.A. 2C:35-7 the prosecution must prove that the individual had possession of drugs with intent to sell. Additionally, the prosecution must prove that the individual was on school property or within 1,000 feet of school property that is being used for school purposes and owned by an "elementary or secondary school or school board." The prosecution will likely also present a map that shows how the incident occured within 1,000 feet of a school zone and the map must be approved as a drug free zone by resolution or ordinance.
The Strict Liability Statute
What is very important to note is that if the individual who possesses the drugs is unaware that they are selling in a school zone, it is totally irrelevant. It does not matter if the individual knows they are selling drugs in a prohibited zone, they will still be charged anyway. This is known as a strict liability statute.
Sentencing and Jail Time
The amount of jail time depends on the degree of the charge.
A first degree charge carries 10-20 years in prison
A second-degree charge triggers 5-10 years of imprisonment
A third-degree charge results in imposition of 0-5 years in jail.
A conviction under 2C:35-7 also exposes a defendant to a fine of up to $150,000.
Contact an Experienced Vorhees Criminal Defense Lawyer About Your Distributing Drugs in a School Zone Charges in Voorhees NJ
Were you arrested or charged with Distributing Drugs in a School Zone in New Jersey? The consequences of a conviction could be severe, leaving you with a permanent criminal record and possibly even sending you to jail. That is why you need to speak with a qualified criminal defense attorney as soon as possible about your case. The attorneys at Garber Law, P.C. have successfully represented clients charged with Distributing Drugs in a School Zone in Camden, Cherry Hill, Gloucester Township, Winslow, Pennsauken, and throughout New Jersey. Call (856) 435-5800 or fill out the online contact form to schedule a consultation with a member of our legal team. We have an office conveniently located at 1200 Laurel Oak Rd, Voorhees Township, NJ 08043.
Garber Law, P.C. Has Achieved Numerous
Multi-Million Dollar Results
Get The Compensation You Deserve!
Settlements and verdicts may vary and are based on the many factors of your case, etc.
(The below information may not apply to your settlement and verdict).
Settlement During Trial for a Leg Amputation
Mr. Garber is amazing! He walked me through my lawsuit every step of the way and answered all of my questions. Not only is he a great lawyer, but he was very caring about my feelings and health throughout the whole process. Thank you, Mr. Garber, for everything you've done for me, especially for winning my case!

Kim C.

Working with the firm was my best decision. They were extremely helpful and knowledgeable and definitely worked hard for their clients. I would highly recommend them.

Linda S.

Mr. Garber is simply the best. Very knowledgeable, honest, and helpful throughout the whole process. He has been practicing law for many years and is a true professional in the courtroom. Joel Wayne Garber will fight hard for what you deserve.

Joseph P.