New Law Could Make It Illegal to "Walk and Text" in New Jersey
March 30, 2016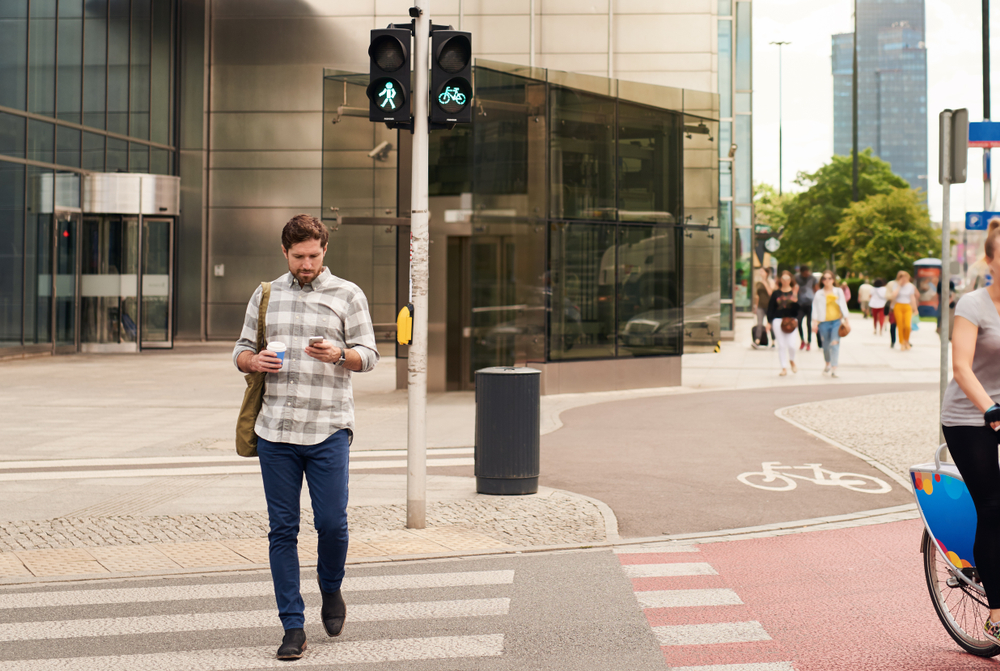 People who walk and text in New Jersey could soon find themselves with lighter wallets. That's because NJ lawmakers are considering legislation that would make it illegal for pedestrians to use their cellphones while walking on sidewalks.
New Jersey Assemblywoman Pamela Lampitt, who represents Camden, NJ, recently proposed a bill that would ban pedestrians from using any form of electronic communication device on NJ roadways – unless the device is hands-free.
"Distracted Walking" Is a Real Problem in NJ
Although some might scoff at the idea of fining, or even imprisoning, people simply for using their cell phones, the reality is that cell phone-related accidents, which can result in significant injuries and even deaths, are occurring at alarming rates.
Distracted walking is a serious problem for people in New Jersey, New York and elsewhere in the United States. Pedestrians are particularly at risk when they use their cell phones to text while walking in parking lots or crossing the street at busy intersections. Over the course of an 11-year period, cell phones were responsible for more than 11,000 injuries, according to a report issued by the National Safety Council (NSC). These scary statistics might not even capture the true scope of the problem, since cell phone use is more popular than ever these days.
The hope of the lawmakers who are supporting the new "distracted walking" bill in New Jersey is that the threat of penalties will reduce pedestrian accidents by discouraging people from walking and texting, much the same way that traffic tickets can discourage speeding and reckless driving accidents. The new law would impose a fine of up to $50 on anyone caught texting while walking. Additionally, judges would have discretion to sentence offenders to as many as 15 days in jail.
It remains to be seen whether the NJ Legislature will pass the proposed bill. Similar laws against walking while texting have already been rejected in other states, including New York and Illinois.
For further information on the proposed legislation, read the Newsweek.com article, "Don't Walk and Text: Law Targets Cellphone-Using Pedestrians in New Jersey."
If you or a loved one has been cited for a traffic offense, a DWI offense or any kind of moving violation in New Jersey or Pennsylvania, you should talk to a qualified traffic ticket attorney now. The experienced traffic defense lawyers at Garber Law, P.C. will help you contest your ticket and avoid the most severe penalties. Contact us today to schedule a free consultation about your case.
Garber Law, P.C. Has Achieved Numerous
Multi-Million Dollar Results
Get The Compensation You Deserve!
Settlements and verdicts may vary and are based on the many factors of your case, etc.
(The below information may not apply to your settlement and verdict).
Settlement During Trial for a Leg Amputation
Mr. Garber is amazing! He walked me through my lawsuit every step of the way and answered all of my questions. Not only is he a great lawyer, but he was very caring about my feelings and health throughout the whole process. Thank you, Mr. Garber, for everything you've done for me, especially for winning my case!

Kim C.

Working with the firm was my best decision. They were extremely helpful and knowledgeable and definitely worked hard for their clients. I would highly recommend them.

Linda S.

Mr. Garber is simply the best. Very knowledgeable, honest, and helpful throughout the whole process. He has been practicing law for many years and is a true professional in the courtroom. Joel Wayne Garber will fight hard for what you deserve.

Joseph P.