Holding Trucking Companies Responsible for an Accident
December 31, 2019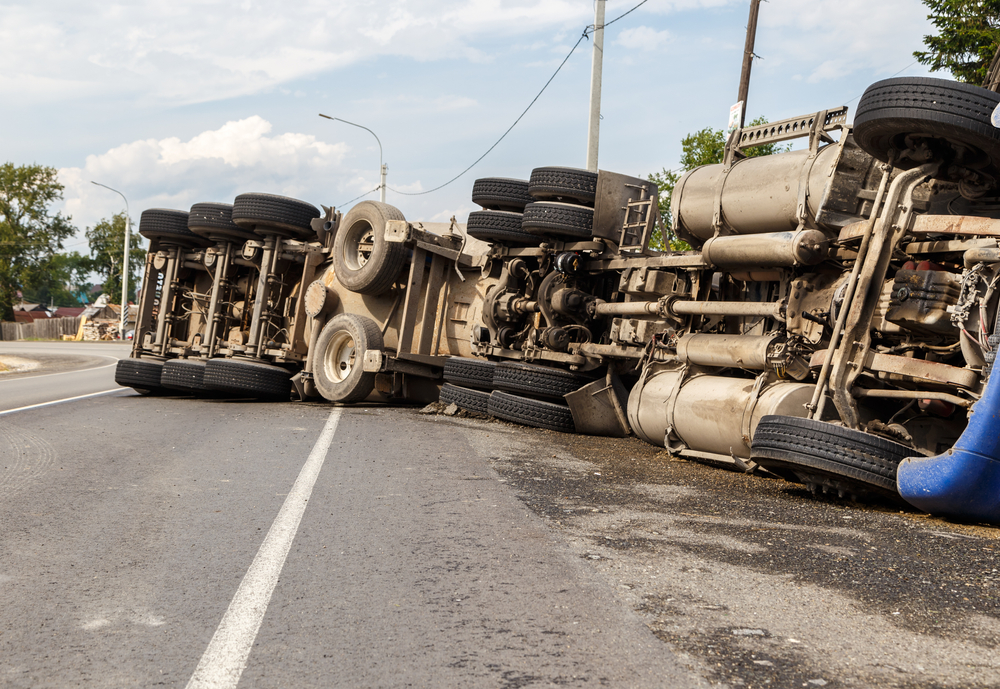 Commercial Truck Accidents in New Jersey
If a person is injured in an accident with a large commercial truck, he or she may be able to hold the trucking company responsible for his or her injuries, depending on circumstances including whether or not the driver is at fault for the accident. However, holding a trucking company legally responsible for injuries suffered by a person in a truck accident is incredibly difficult and often requires skilled legal representation. Liability for a truck accident is not always clear. However, when trucking companies cut corners on truck maintenance, push their drivers to operate past the legal limits on driving hours or to speed or drive recklessly, or engage in other tactics that cause an accident, it may be possible to hold the trucking company responsible for the accident. It is often difficult to obtain evidence that a trucking company's actions, omissions, or policies led to an accident; skilled legal representation can increase the chances that such evidence may be uncovered by the injured party.
Company Liability for Truck Accidents
In lawsuits arising from truck accidents, it is possible to hold a trucking company responsible for its truck driver's negligence under a legal theory known as respondeat superior. Under this doctrine, an employer can be held liable for its employee's negligence committed in the course of the employee's work. It may also be possible under certain circumstances to establish the trucking company's direct negligence as a cause of the accident. For example, if the trucking company hired a driver that it knew or should have known posed a substantial risk of causing an accident, instructed its drivers to exceed the limits on hours behind the wheel or drive in a careless or reckless manner to meet scheduling deadlines, or failed to properly maintain its trucks, the trucking company can be held responsible when those decisions lead to an accident.
Proving Liability
When holding the trucking company responsible for a truck accident, it is necessary to have evidence of the trucking company's negligence or the truck driver's negligence. Evidence from the accident scene can prove that a truck driver was responsible for causing an accident. Or there may be documentary evidence that a trucking company cut corners or instructed its drivers to cut corners, such as the driver's logs, the truck maintenance logs, or the truckload manifests.
When Truck Drivers Are Independent Contractors
When a truck driver is an employee of the trucking company, it is possible to hold the trucking company responsible for the driver's negligence. However, if the truck driver is an independent contractor, it is harder to impose liability upon the trucking company since it does not employ the driver. It may only be possible to impose liability upon the trucking company if it knew or should have known that it was hiring a driver that posed a substantial risk of causing an accident.
Pursuing a Claim Against the Trucking Company
Trucking companies will often try to deflect blame and responsibility for a truck accident. It is often necessary for an injured person to quickly retain an attorney who will secure documents from the trucking company that may prove that it had policies that led to the accident. The trucking company may also try to conceal the extent of insurance coverage that is available to compensate an injured party.
Contact a Voorhees Township Personal Injury Lawyer to Discuss Your Truck Accident Case in New Jersey
Did you or a loved one sustain serious injuries due to a truck accident in New Jersey? Don't let the medical bills pile up while you wait for the negligent party or their insurance company to do the right thing. Right now, you need an aggressive personal injury attorney on your side, fighting to get you the compensation you need, want, and deserve. The skilled attorneys at Joel Wayne Garber Law, P.C. Offices represent clients injured because of truck accidents in Camden, Cherry Hill, Gloucester Township, Winslow, and throughout New Jersey. Call (856) 435-5800 or email us to schedule a free consultation about your case. We have an office conveniently located at 1200 Laurel Oak Rd., Voorhees Township, NJ 08043, as well as offices in Philadelphia, PA.
Garber Law, P.C. Has Achieved Numerous
Multi-Million Dollar Results
Get The Compensation You Deserve!
Settlements and verdicts may vary and are based on the many factors of your case, etc.
(The below information may not apply to your settlement and verdict).
Settlement During Trial for a Leg Amputation
Mr. Garber is amazing! He walked me through my lawsuit every step of the way and answered all of my questions. Not only is he a great lawyer, but he was very caring about my feelings and health throughout the whole process. Thank you, Mr. Garber, for everything you've done for me, especially for winning my case!

Kim C.

Working with the firm was my best decision. They were extremely helpful and knowledgeable and definitely worked hard for their clients. I would highly recommend them.

Linda S.

Mr. Garber is simply the best. Very knowledgeable, honest, and helpful throughout the whole process. He has been practicing law for many years and is a true professional in the courtroom. Joel Wayne Garber will fight hard for what you deserve.

Joseph P.